Coffreo, ISO 27001 certified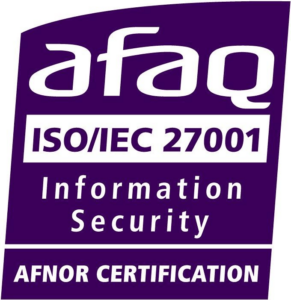 Coffreo's information security management system is ISO/IEC 27001 certified. This certification confirms Coffreo's commitment to providing reliable and secure services.
What is ISO 27001?
ISO 27001 is an international standard that describes how to set up an information security management system (ISMS). Its aim is to ensure physical security and computer security.
It is part of a continuous improvement process to ensure protection of data, improvement of processes and performance suited to a constantly changing IT and legal environment.
What information security level does Coffreo achieve?
Issued by AFNOR Certification, an internationally accredited certifying body, ISO 27001 certification covers all the services offered by Coffreo and retains all of the measures proposed by the standard. This means that we can deliver the best possible quality of service as protection of your data is our top priority.
What does ISO 27001 certification mean to you?
It gives you additional reassurance of our commitment to our customers:
the assurance of management of information and data-related risks through a strict methodology,
increased awareness of information security,
regular updating of the information system.
ISO 27001 and personal data
These days, personal data security is a major issue for all individuals and companies. Because of the nature of their business, this concern is all the more important for companies in the flexible work market as they collect a large amount of sensitive personal data belonging to their talents.
The European General Data Protection Regulation (GDPR) and standard ISO 27001 converge in the following areas:
reinforced data security,
reduced data risks,
consideration of the confidentiality, integrity and availability of data including personal data.